We design personalized, aesthetic and functional restorative dentistry: crowns, bridges, copings, veneers, inlays, pontics, removable and temporal restorations, dental devices and more.
You do not need any prior knowledge in digital dentistry to work with us at Teefy.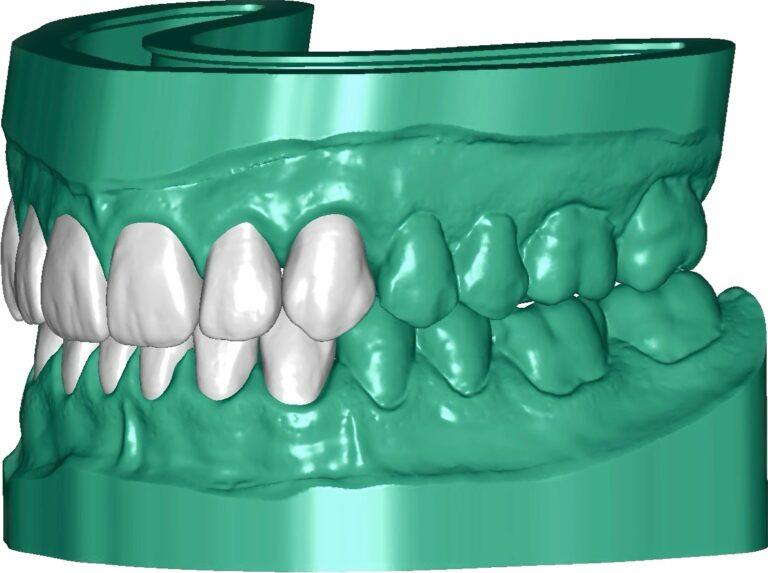 Restorative
dentistry designs
With a 100% digital methodology of work, Teefy gives a solution to the requirements of dentists and lab technicians by offering them aesthetic and functional restoration designs.
Our proposal speeds up the work flow and reduces the chances of making any errors arising from the process itself by simplifying any of the steps along the treatment. We can achieve this by guaranteeing greater precision and the best communication possible among the patient, the dentist and the lab technician.
We can offer you these services to speed up and boost your aesthetic and dental restorations.
Cemented crowns
Bar Designs

---
Surgical Guides / Stackable Surgical Guides
---
Maryland Bridges (Adhesive Bridge)
---
Telescopic Crowns
---
Temporary Crowns
---
Temporary full arch (for immediate loading)
---
Gingivectomy Guide (Surgical Guide for 3D impression)
---
Positioning Guide for Temporary Crowns (for 3D impression)
Complementary Tools to the
Prosthetic Treatment Plan
Adding to dental restoration designs, we offer you complementary tools; e.g. "digital smile design" to obtain further precision in any aesthetic restorations.
You can annex any CT or facial scans.
Digital Attachment Designs for
3D Printing
Starting from all data collected from intraoral scans or scanned prints, we can build personalized physical models, which you will, in turn, be able to print at your own lab.
Then, you can add to them any removable attachment such as: dies, gingival masks, or support pines/ articulated arms.
Removable gingiva mask (for 3D print)
Smart, efficent & digital
With Teefy find a solution to rehabilitation and aesthetic dentistry of your patients


Intraoral scan of the patient or any plaster cast of the mouth done by the dentist or lab technician.


Professionals send us all digital files by a work order including all the details of the case.


Our designers at Teefy receive your cases and analyze and design any restoration requested by the professional.


Teefy sends the design to the professional to be revised in case of necessary modifications to the design.


Once the design is approved by the professional, Teefy sends you the final design of the restorations by email.


Ready to be
milled/printed
The dentist receives the restorations design to be then milled/printed at the dental lab.


All restorations go through different processes at the lab until they are completely finished.


The dentist finishes the restorations with the patient during the clinical session.
Our Team can offer you the fastest service depending on the complexity of the case requested.
For single cases, bridges, reductions with or without complementary designs from 1 to 6 elements: a delay of 24 working hours.
For single cases, bridges, reductions with or without complementary designs from 6 to 12 elements: a delay of 48 working hours.
For more than 12 elements, full arches with or without complementary designs: a delay of 72 working hours.